In the news 20-year-old Barbadian-born star sustained trauma
TMZ also reports that Rhia's face showed major contusions. serious swelling/brusing, lip split and nose bloody.
TMZ also confirmed that she had bite marks on her arms, and several fingers.
Police report was filed under the singer's real name, Robyn Fenty.
Shortly after the pair left music impresario Clive Davis's star-studded pre-Grammys gala at the Beverly Hilton hotel. Los Angeles Police Department responded to a 911 call at around 12.30am on Sunday morning , just hours before the Grammys.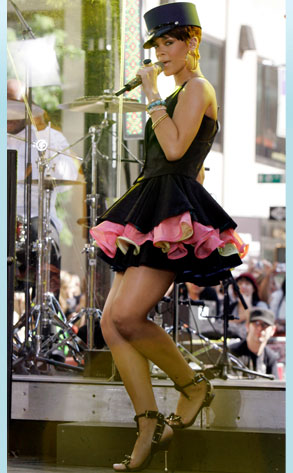 Rhiannon & Chris Brown where a no show at the G Awards. Rhiannon claims that Chris stuck her with his fists. Police on the scene took photos of the injuries & they are said to be "horrific".
TMZ
also reports that Rhia's face showed major contusions. serious swelling/brusing, lip split and nose bloody. TMZ also confirmed that she had bite marks on her arms, and several fingers. Police report was filed under the singer's real name, Robyn Fenty.
Brown voluntarily surrendered to police later that evening, charged with making criminal threats and released on $50,000. Rihanna sought treatment for her injuries at the Cedars-Sinai hospital.
"Brown - whose dancing ability draws frequent comparisons to a young Michael Jackson - has previously spoken of the 'terror' he felt when witnessing his mother suffering domestic abuse at the hands of his stepfather" He made me terrified all the time, terrified like I had to pee on myself," Brown told Giant magazine. "I remember one night he made her nose bleed. I was crying and thinking, 'I'm just gonna go crazy on him one day...' I hate him to this day.""-
http://www.telegraph.co.uk/news/newstopics/celebritynews/4577003/Rihanna-suffered-horrific-injuries-after-alleged-assault-by-Chris-Brown.html

X17 online
Reports
TMZ video also mentions an unbrella in the car at the time, was NOT used in the assult..
Rhianna Tatts are
auspiciousness to her mind and body.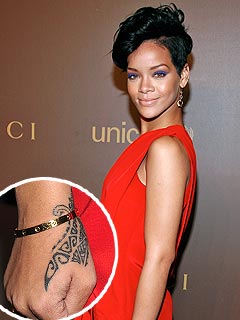 ( chris brown matchin ear.star tatts)
With the timing lining up with the Grammy's &
Boones sacrifice of the Goddess
, in one has to wonder if this a batched attempt to sacrifice Rhiannon or the
MK ultra
at work.
(5+1 = 6) Rhiannon
roman numerals xi iv 11 /4 IV or iv for four XI or xi for eleven
L = 50 X = 10 V = 5 I = 1
Total them all 50 + 30 + 5 + 1 = 86
It's the birthday of her Best Friend/
Assistant Melissa Ford
who she considers her
blood sister
.
Melissa also has one with Rihanna's birthday.
From
pegcarter
: More on Rhiannon & her link to Moon Goddess
Dianna
it was associated with the Moon Goddess, Diana, since Moon Goddess is a huntress, as is
Orion.
[hunter]
One story of Orion
In Indian mythology, the constellation is known as 'Vyadh', which also means "The Hunter". It is also known as Kālpurush (the Destroyer). The Rig Veda refers it to as Mriga (The Animal or Deer). [So in the ancient Vedas it's ID'ed with the prey!]
"[
Artemis
] also became identified with the Roman goddess
Diana
and with the Etruscan goddess Artume. "
http://en.wikipedia.org/wiki/Artemis
Rion Ryan Rian Rhianna....
Diane de Versailles Leochares
connected with the "hunt" and with the "moon"
And here we see Diana with a stag or deer.
So oRyan and Rion Rhianna and are connected with the hunter constellation "Orion" and with Dian [both hunters/huntresses...and hunted *together in one myth]
Moon goddess Dianna [Dion?] is connected with Rion. [and then there is *always Zion
]
Diana
/
Artemis
over the body of oRion.
Diane auprès du cadavre d'Orion
Artemis
is the twin of Apollo, the Sun god.
So there is a parallelism between Artemis/Dian and Sun god
And Artimis/Diana and Orion. Connecting the Sun god to Orion...[but I dont know what that means, necessarily].
There is a parallelism between the brutality of
Orion, -
the result of which caused "his" own destruction...And the destruction of Rhianna's face, by another version of the out-of-control male. Whatever his name is?! Mr.
Brown.
[What a boring name?...chris brown? "dark sun," I guess?!]
Joseph Fontenrose wrote Orion
: the Myth of the Hunter and the Huntress (1981) to show Orion as the type specimen of a variety of grotesque hero. Fontenrose views him as similar to Cúchulainn, that is, stronger, larger, and more potent than ordinary men and
the violent lover of the Divine Huntress.
Didn't Dutch say that some of what these cycles bring up are related to "karmic" debts?
Nico was introduced to a feminist circle [pro-females, anti male-violence] by female Ryan, who is, herself, known to get into fist [cat?] fights!
Diana, ex-princess of Wales, was also abused by patriarchal-style power? Especially since it's evident she was murdered.
Hey, where is her
Parasol
? !
Last night Nico showed me this new 9/11 video mash-up.
It appears that a TV show is syncing with our reality.
The line from the show, "Are you a truther or a sheep?" mirrors the line out of Nico and Ryan's [and al 'Duffy's] big-lie-hole transgression video[s] where they repeat "Are you a Planer or no-planer?" while doing a mock water boarding.
The TV bit is used used in the mash-up contrasts with the performance art water boarding, where they repeat a similar line. Both clips are in the mash-up.
http://www.youtube.com/watch?v=imnCnQ1xEqo
For more on the symbolism plz watch:
http://www.youtube.com/watch?v=LcsReXIn1RA
http://www.youtube.com/watch?v=7x5e7Rr52Tc
Rihanna at 3min mark of the video below
http://www.youtube.com/watch?v=ZOA1UuxKils
The alleged attack, her "horrific" injuries, rumoured texts from
Paris Hilton
... what really went down that night?
http://www.ahlanlive.com/10593-rihanna- ... g-question
which is different the the other link, the cell phone call was from another woman, one in which he had cheated with. . this identifies the 2nd being Leona Lewis...
Chris Brown makes potential Rihanna comments on on his private Facebook page

Q. Why is JAY-Z so angry?
A. Friends of Jay-Z, who discovered Rihanna, say the hip hop mogul "hit the roof" when he heard about the allegations. "Chris is a walking dead man," an insider told US Weekly. "He messed with the wrong crew."
Four Theories On the Rihanna-Chris Brown Blowup
A cell-phone skank
Brown's cell phone was the center of the whole thing, according to Bossip.com, citing "a highly-placed source in the Chris Brown legal camp." In this version of events, Brown's phone actually rang in the Lamborghini. Rihanna caught a glimpse of the number and instantly knew it was from a "particular girl" Rihanna knew Brown had been "messing around with," so she began to "beat the shit" out of Brown while Brown was driving.
There is always 3 sides to a story
Did Rihanna give Chris Brown Herpes? (or vice versa)
The plot thickens in the Chris Brown and Rihanna scandal. Rumor has it that Chris Brown blew up at Rihanna because she gave him an STD - herpes to be exact. ...Guess who the rapper was. I'll give you a hint, starts with "J", ends with "Z".
http://www.gather.com/viewArticle.jsp?a ... Groupspace
Rihanna jealous past
Rihanna jealous of female fans of Chris Brown?
Rihanna is jealous of female fans of her boyfriend Chris Brown. Brown was dancing with a group of girls in Liverpool when Rihanna insisted that the women move , TW reports
"Chris invited them for a glass of Cristal. Then, as he started getting into the music, they had a dance-off. That was when Rihanna walked in," an eyewitness says. "She was suffering from a cold so she was in a bad mood anyway. The girls were asked to move away from Chris." http://thebosh.com/archives/2009/01/rih ... _brown.php

Rihanna apparently is easy to get jealous of all girls who try to get close to her speculated boyfriend, Chris brown. Latest news claimed that the "Umbrella" hit maker was mad at Chris while partying at hot spot Stone Lotus nightclub on Saturday, May 24. Jealous Rihanna was angry when she noticed Chris taking other girls into the VIP room....
Rihanna previously also got jealous and fought with Chris over another woman while celebrating his birthday at a Washington D.C
Seeing Chris enjoyed dancing with another girl, she reportedly was mad and tried to make him jealous. A source stated that Rihanna "starts dancing all up on the guy, (and she wasn't bad) and I guess it was to make Chris jealous but he wasn't paying her no mind." http://www.celebrity-mania.com/news/view/00005475.html


Reports of the 2 getting back together & hiding out in P.Diddy's mansion in Miami.
http://x17online.com/celebrities/rihann ... 272009.php
Update: March 27
Rihanna
shows off her
Guns
Rihanna flew her new BFF, BangBang, the New York based tattoo artist to her place in Los Angeles in order to get some new body ink.

Never one to shy away from controversy, Rihanna's latest choice is a small handgun image on her rib cage under her right arm.

www.thesmokinggun.com
-
LAPD Details Rihanna Beating